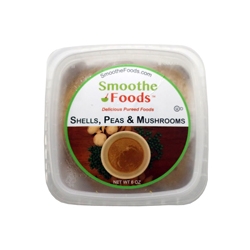 Smoothe Foods Shells, Peas and Mushrooms
Italian inspired pasta shells and tomato sauce with ricotta and Romano cheese. Enjoy with the added rich and hearty peas and mushrooms.
OU Kosher

Customer Service and Shipping In
formation
-
READ BEFORE ORDERING

PLEASE NOTE:

 
Following are the days Smoothe Foods will be shipping for the remainder of 2019.
11/11/19 • 11/13/19 • 11/20/19 • 11/25/19 • 12/2/19 • 12/4/19 • 12/11/19 • 12/18/19

Shipping included in price
To order this within a variety pack, choose from:
Smoothe Foods Shells, Peas and Mushrooms
SF1304
---
Customer Reviews