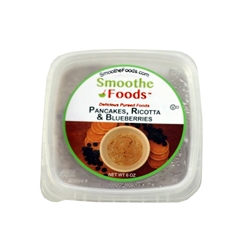 Smoothe Foods Pancakes, Ricotta and Blueberries
Yummy pancakes swirled with ricotta cheese, blueberries and apple compote. We offer you a delicious start to your day. 
OU Kosher

Customer Service and Shipping In
formation
-
READ BEFORE ORDERING

PLEASE NOTE:

 
Following are the days Smoothe Foods will be shipping for the remainder of 2019.
11/11/19 • 11/13/19 • 11/20/19 • 11/25/19 • 12/2/19 • 12/4/19 • 12/11/19 • 12/18/19

Shipping included in price
To order this within a variety pack, choose from:
Smoothe Foods Pancakes, Ricotta and Blueberries
SF1303
---
Customer Reviews