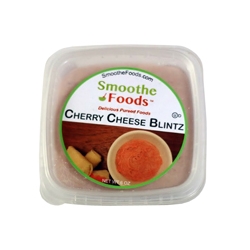 Smoothe Foods Cherry Cheese Blintz
Cherry Cheese Blintz is a delicious dessert, perfect for those times you may wish for a little sweetness. 
Smoothie crepes with ricotta cheese and touch of cherry filling. Tastes just like a dessert smoothie! 
OU Kosher

Customer Service and Shipping In
formation
-
READ BEFORE ORDERING

PLEASE NOTE:

 
Following are the days Smoothe Foods will be shipping for the remainder of 2019.
11/11/19 • 11/13/19 • 11/20/19 • 11/25/19 • 12/2/19 • 12/4/19 • 12/11/19 • 12/18/19

Shipping included in price
To order this within a variety pack, choose from:
Smoothe Foods Cherry Cheese Blintz
SF1300
---
Customer Reviews