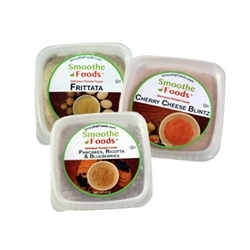 Smoothe Foods 24 Variety Pack - Customer's Choice
24 FROZEN Meals Total (Customer's choice)
Smoothe Foods Frozen Purees offers variety to you and your loved ones. A varied meal plan allows for better eating.
For product descriptions and nutrition facts select product below:



Customer Service and Shipping Information
-
READ BEFORE ORDERING
PLEASE NOTE:
S
moothe Foods' orders will be shipped on Mondays and Wednesdays.

Shipping included in price
Case Size: 24/6 oz.
Kosher

To order, add the number of each item you would like in the spaces below. Make sure it adds to 24 and then click on Add to Cart.