Thick & Easy® Puree Mix, Instantized Pasta
HHL73744   7.00 lbs
THICK & EASY® Instantized Pasta makes it possible to achieve the pureed texture of real pasta without the time consuming and messy process of preparing it yourself. The preparation directions are easy to use and the only ingredients needed are Thick & Easy Instantized Pasta and Thick & Easy Instant Food Thickener.

Ingredients: enriched semolina flour (durum wheat semolina, niacin, reduced iron, thiamine mononitrate, riboflavin, folic acid). Contains: Wheat.

Kosher. Lactose Free. Vegan. Vegetarian. Dairy Free. Egg Free.
Preparation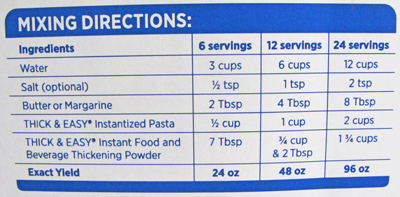 Recommended Preparation
Bring water, salt and butter to boil. For best results, combine Thick & Easy® Instantized Pasta and Thick & Easy® Instant Food and Beverage Thickening Powder before adding to water. Slowly add dry ingredients and whisk into boiling water. Cover and place on a steam table or in a food warmer for approximately 30 minutes. Whisk again before serving. To serve, scoop onto plate or pipe through a bag using pastry tips. Serve with desired sauce.
Alternative Preparation Method
Combine all ingredients. Pour into steam table pan. Let stand 10 minutes. Cover. Bake at 350°F for 60 minutes and until thickened. Whisk before serving.

STORAGE & HANDLING
Store in a cool, dry place. Shelf stable up to 3 years from date opened.

Case Size: 1/5 lb
Serving Size: 14g
Shelf Life: 3 years

Nutrition Facts
---
Customer Reviews